<![if !vml]>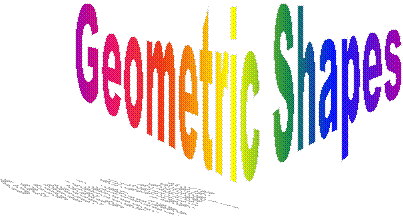 <![endif]>
Created by Linda Ferguson, Jane Binford, and Patty Williams- LISD Instruction Technology


See your ITS for further directions.

<![if !vml]>

<![endif]>
Click on the link to determine which project fits your grade level.
If you want to modify, save it to Scommon/ Your Campus Name/Desired Folder; otherwise
have the students click Open and then click File/Save. Direct students to their H: drive.

Suitable for classroom computer workstation activity.
<![if !vml]>

<![endif]>Basic Shapes
<![if !vml]>

<![endif]>
Have students open and save to their H: drive.
Polygons
Use AutoShape Tool
<![if !vml]>

<![endif]>
<![if !vml]>

<![endif]>
You must save these projects to Scommon/Your Campus/Desired Folder.
Students will open the file in Scommon and save it to their H: drive.
Shapes
This project requires more time and teacher direction.
Insert pictures and type characteristics of the shapes.
Use WordArt to name the polygon.
Use the Picture Gallery for examples.
Geometric Shapes
Use the AutoShape tool to draw geometric shapes.
Add more slides to create shapes using the AutoShapes tool.